PVC, wooden and aluminium frames in Cattolica
Are you thinking about renovating your home? Or are you designing your new house in Cattolica and you have to select doors and windows? Ask Futura Infissi, the leader company in the production and installation of frames in Cattolica. Since many years we produce and install various types of frames, always maintaining the highest qualitative standards in the field. By choosing our company you will have access to personalised consultancy to guide you in choosing the ideal material for the fixtures in your house, together with a team of highly expert technicians who will be able to produce and install the doors and windows of your dreams.
PVC frames in Cattolica: the best quality-price ratio
PVC fixtures have countless advantages and represent, often, the first-choice solution for window frames in both houses which are new or to restore. The PVC frames in Cattolica are characterised by excellent weather resistance, together with an optimal thermal and acoustic insulation capacity. PVC is a first-choice material for building window frames that combine high-performance with a competitive price.
Aluminium frames in Cattolica: modernity and resistence
Aluminium frames in Cattolica: Futura Infissi produces window frames characterised by lightness and strength. They are used in big buildings and in the construction of modern and bold shaped buildings. Combining them with glass, it is possible to create large windows that ensure a total protection from the heat during summer and the cold during winter. In order to preserve their characteristics over time they do not require particular maintenance, thanks to the inner endurance of the materials they are made of.
Wooden frames in Cattolica: choose Futura Infissi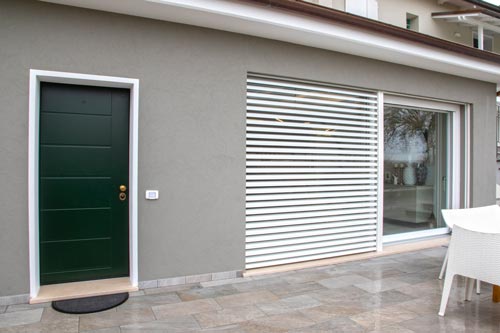 Still today, wood is very frequently used in the realisation of fixtures in Cattolica. Even if it has been a very traditional material for decades, its features are strength, lightness and environmental sustainability which, along with modern manufacturing techniques, make it the ideal material for the realization of wooden frames in Cattolica.