FUTURA INFISSI - INTERIOR DOORS
Interior doors: essential elements that help defining the style of the building and, if chosen carefully, can be very eye-catching. Futura Infissi has a several years long experience in the field of doors production and selling, proposing a wide choice of shapes and colours.
Interior doors play an important role in the interior design of a house. In fact, beside their basic function of closing doors to preserve space and privacy, they are also part of the aesthetic value, and they have to match the style of the house, being functional in the meantime.
Interior doors can be made of different materials, from wood to glass, and can be different in shape and opening and closing modality: from sliding doors to folding doors to hinged doors. Hinged doors are the most traditional, with one or two panels, smooth or divided and with decorations. The sliding door is, instead, ideal when some space has to be saved, as the panel can slide into the counter frame attached to the wall, disappearing, or it can be flush-to-wall with specific tracks. They can be composed by one or two panels. In the end there is the folding door, realised combining two or more panels that overlap when the door is opened. This solution is perfect to save space, just like the sliding door, but unlike it the folding one does not require a prior intervention on the wall. Before choosing the best option it is necessary to consider a few other factors, such as size.
During the design phase of the house or of its eventual restoration you will have to consider the opening size of the door, not only for the door itself, but also for what has to go inside the room, for example furniture, wardrobes and beds. The standard size of an interior door goes from 80 to 100 cm of width, to 200-210 cm of length. The product though can always be customised.
The choice of the material is also important, hinged and sliding doors give a wider range of choices, from wood to laminates to glass. The glass can be quenched, with five times more resistance than the regular glass and in case of breaking it crumbles up and does not cut, or layered, consisting in two 3 mm panels among which a special film called PVB is glued, allowing to keep the fragments attached in case of breaking.
The latest considerations to make before buying your interior door is to ask for a product info sheet, as provided for by law. Every sheet contains info regarding the materials used, the instructions for installation and maintenance and the possible presence of any harmful substance in the product, for you or any other person living in the house. Read the info sheet carefully and remember to get further info about the warranty too, which has to have a validity of at least 2 years.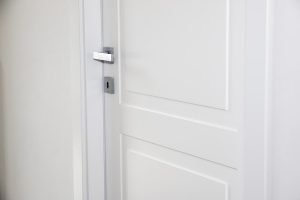 Interior doors: many functional solutions
Other types of interior doors are different not only in material but also in shape. Beside the classic versions – available also in the flush-to-wall variation without frame but directly integrated with the brickwork, to gain an extremely minimal and tidy style – we propose folding doors, foldable and handy, sliding doors, simple and useful, and pivot sliding doors: all efficient and low-profile solutions, to choose from based on one's needs.
Wood doors: classic and natural 
Wood doors represent a timeless classic, elegant and solid, showing sturdiness, not only in the look, but also in the constitution. Wood is an easy to process material with many shades, characteristic that makes it adapt to various settings, from an office to an apartment.
There are different types of wood that can be used in the making process, such as mahogany or hickory and any of them has to undergo a drying process first, in order to eliminate the humidity and increase their resistance. The choice of wood is ideal if you desire to opt for a sliding or hinged door as wood is pretty versatile if left au naturel or painted to match the colour of walls using opaque or shiny paint. Among the various types you can choose solid wood, the most resistant and long lasting, laminated wood, made of plywood slats or MDF that matches glass very well, or  honeycombed wood, which frame is in solid wood, but the inner structure is similar to a honeycomb and its surfaces are closed with panels made of MDF or plywood. This last type of panels is particularly resistant to stresses, remaining at the same time lightweight and less expensive than other solutions.
Wood doors made of quality materials are ideal to recreate a warm and cosy environment if you desire to maintain their natural shades, assuring at the same time a long-lasting performance.
Glass doors 
Modernity brought significant changes in the use of materials and glass doors are a clear example of this improvements. Glass represents a strong contradiction: fragile at first sight, it is, actually, shock-resistant and adapt to the most extreme manufacturing processes, such as carving and decorations. Available in transparent and opaque versions, it symbolises lightness and innovation.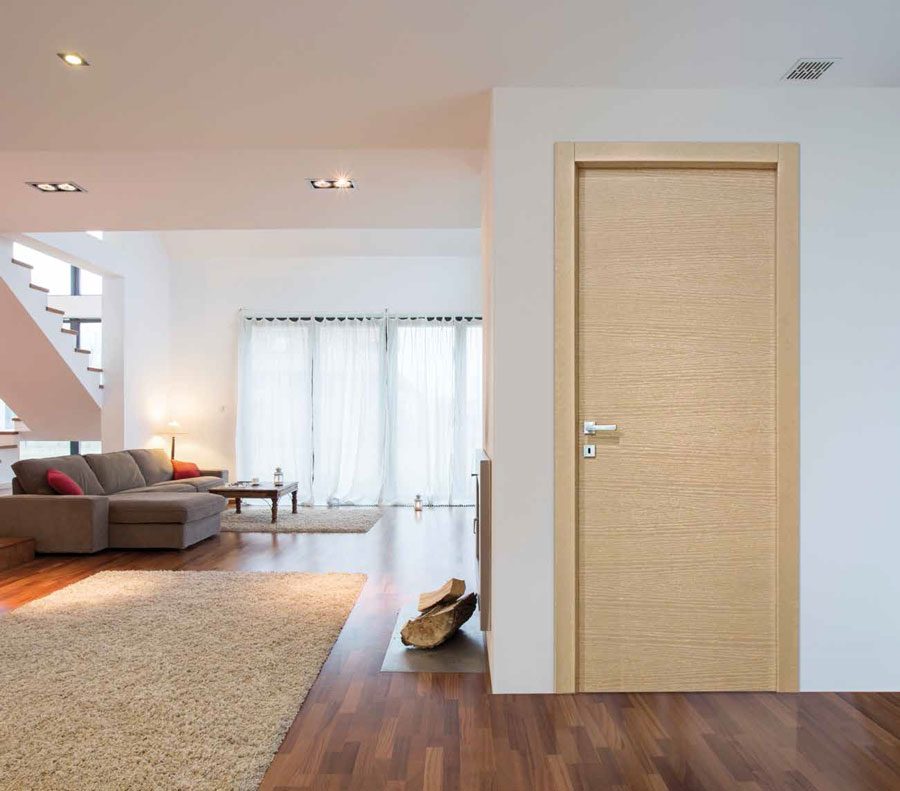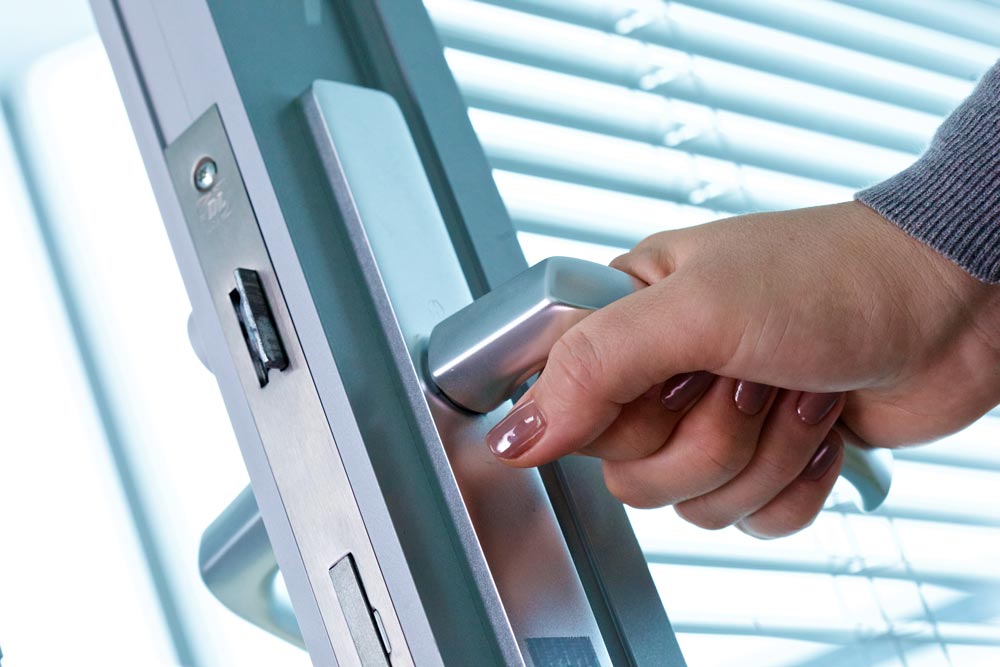 Security doors 
Security is, for us, a rule and not an option. All of our interior doors are refined ad hoc with stress and wear resistant materials. Moreover, we offer a wide selection of armoured doors for any necessity, conceived to guarantee safety thanks to the steel reinforcements added to the basic constitutive elements.
Interior sliding doors for saving space
The interior sliding doors can be: pocket doors or exterior wall sliding doors. They can be made of laminated, wood or even glass.
Pocket doors require a specific installation work as the counter frame has to be incorporated to the wall where the door is going to be placed. The movable panel is fixed to the frame which slides in the counter frame installed inside the wall. If the wall is partially demolished then it will be necessary to cover the counter frame with plaster, if it is completely demolished a final addition with drywall is needed.
If you prefer not to work on the wall but you like the idea of a sliding door to save space than you can opt for the exterior wall sliding door. It has one or two panels which slide parallel to the wall and do not require building interventions. The panels are attached to a track inside a rail weld to the ceiling or to the wall itself and they can be: hanging or completely build-in.
Installing sliding doors requires the help of a specialised technician, despite the model you choose, as the expert is the only one that knows the correct installation process of the tracks and door. The tracks are realised using anodised aluminium and have two carriages with small plastic wheels and ball bearings.