PVC, wood and aluminium frames in Pesaro
During the construction or restoration of a house or office frames are one of those essential elements for the building's efficiency. Frames in Pesaro by Futura Infissi are able to combine a remarkable aesthetic impact with a fine quality technique. Frames in Pesaro by Futura Infissi match the style, the taste and the elegance of the Made in Italy realisations to the most advanced technology, to guarantee beauty, safety and perfect acoustic and thermal performances. Any type of frame is technically studied in detail to satisfy the client's needs.
Frames by Futura: custom-sized quality, aesthetic functionality and environmental sustainability. Are you searching for frames in Pesaro that reflect the criteria listed above? Discover more on our website or contact us, we will be available to examine the project with you.
PVC frames in Pesaro: what Futura Infissi can offer you
PVC frames can be particularly long lasting and eco-friendly at the same time. The advantages in using PVC frames in Pesaro regard the excellent ability of PVC to insulate both from a thermal and an acoustic perspective, its minimum need of maintenance, bad weather resistance, durability in time and a particular caution towards the environment. With this material is possible to realise any kind of frame, maintaining a wide degree of customisation.
Polyvinyl chloride, or PVC, is a thermoplastic material obtained from natural raw materials and its main characteristic is versatility. Resistant and solid, this material can be shaped and made flexible through different working techniques. Among its features there are resistance to scraping, wear of time and weather conditions, other than to fungus, bacteria and chemical components. Not only, because PVC opposes to infiltrations and is also fire resistant.
Aluminium frame in Pesaro: custom-sized solutions
Futura Infissi is a company that produces aluminium frames of any shape and size on request. Our aluminium frames in Pesaro can be adapted to all technical and architectural necessities, besides guaranteeing a good thermal insulation and, therefore, energy savings.
Aluminium is a malleable metal, capable of changing shape in a plastic way when properly handled. Its main features are lightness, malleability and resistance to oxidation, characteristics that make it an ideal material for the industry field. One of its advantages is resistance, not only in regard to time, but also to atmospheric agents and any harm coming from the outside.
Wooden frames in Pesaro: technology and sustainability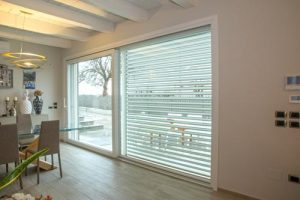 Wood has always been used in the creation of wooden frames in Pesaro, as it has many pros: it is resistant, lightweight and eco-friendly, thanks to the modern working techniques, used to elevate its performances, equalising synthetic materials.
The latest technologies intervene in the maintenance matter too: if once it was a long and unavoidable practise to prevent the surface from scratching, now it is reduced to the minimum, only requiring a fast, cheap and effective ordinary cleaning to maintain the beauty of the surface unaltered.
Quality, modernity and efficiency, with a special consideration for tradition: wooden frames for doors and windows are a meeting point between great features coming from professional figures with a long experience in raw materials choice, their handling and installation, and high performances, as Futura Infissi Pesaro brings tradition to a higher level, up with the times.