PVC, aluminium and wooden frames in Urbino
High quality made in Italy doors and windows for any kind of application: the frames in Urbino by Futura Infissi can be customised, choosing any shape, size and colour. The wide range of frames proposed allows to satisfy any request, both technical and about style. Our frames guarantee the best aesthetic result, being at the same time thermal insulating and sound-proof. The material is a clients choice, as the frames influence the place style, but they are also essential to the thermal and acoustic insulation of the house, offering protection from bad weather as well. This is why the choice is important and is necessary to trust only specialists in the field, whom can guide you in the selection of the most suitable frames for your needs.
PVC frames in Urbino: the ultimate type
PVC frames in Urbino: indisputable performance combined with a modern and refined design. Resistant to cold, wind, rain and other severe climate trends, PVC doors and windows maintain the indoor temperature, directly affecting the energy consumption and representing a perfect shield from outdoor noise. It is an incredible versatile type of frame, with a convenient quality-price ratio compared to other solutions.
Aluminium frames in Urbino: why choosing Futura Infissi
We realise any type and size of aluminium frame on demand. The thermal break aluminium frames represent a captivating solution as they are able to satisfy even the most polished requests and the most creative idea, aside from guaranteeing a great thermal and acoustic insulation. Lightness and strength are two of the features that characterise the aluminium frames, making them suitable for wide glass walls.
Wooden frames: the eco-friendliest solution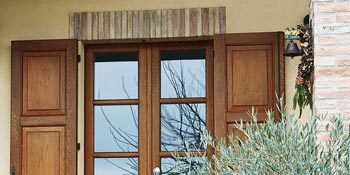 Wood, the eco-friendliest material is used in the production of wooden frames for an environmental sustainability with no comparison. Thanks to the realisation techniques, the wooden frames in Urbino do not need expensive and frequent maintenance operations anymore, and an ordinary cleaning is enough to keep its characteristics unaltered.