PVC, wooden and aluminium frames in Senigallia
Futura Infissi is a leading company in the production and installation of frames and fixtures of any kind. We are a reference point for our customers, both in the private and business spheres, in the realisation of completely customised products, including the installation service and the design of the doors and window frames of their dreams. Our frames can be tailor-made, of any shape, size and colour. To choose the ideal material for your fixtures you can rely on the professionality of our experts, that will allow you to take into account various aspects, not only regarding price or aesthetic value.
Custom-made PVC frames in Senigallia
PVC frames are particularly appreciated for the well-known properties of the material they are made of, becoming a strategic solution in the production of high quality, custom-made doors and windows. PVC frames in Senigallia are able to resist to the attack of atmospheric agents, noise and extreme temperatures and they only request ordinary cleaning.
Aluminium frames in Senigallia: top-quality technology
We use thermal break aluminium to produce our frames as it has favourable characteristics of structural firmness and insulation, ensuring the creation of modern, long-lasting and safe frames with elevated thermal and acoustic properties. The aluminium frames in Senigallia by Futura Infissi are able to significantly impact on the energetic efficiency of the building. Combined with glass, they are ideal in the realisation of wide windows.
Wooden frames in Senigallia: what Futura Infissi can offer you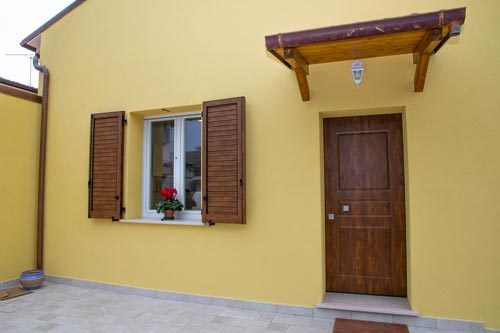 Wood is still frequently used to manufacture frames in Senigallia, given its major qualities: resistance, lightness and environmental sustainability. Thanks to the modern working techniques, the results after choosing wood to produce doors and windows is as satisfying as choosing PVC or aluminium. Due to its low value of thermal conductivity, it perfectly insulates the building from cold temperatures and bad weather, giving a unique final addition to the house.