FUTURA INFISSI - WOODEN FRAMES
Our wooden frames represent a valid choice for any accommodation, as well as for corporate and business buildings, for many reasons. First of all, wood is the best natural insulator and this a crucial feature, other than being the ultimate goal of any frame. Besides, the working technique that has been developed over the years allows to gain an advantage from every one of its characteristics, being a performant and beautiful material.
Wooden frame: its structural features
Our wooden frames are produced with care and attention, using only top quality wood, free from impurities that could, with time, lead to sealing and closing problems. The main component, that maintains the thermal insulation of wood, is the casing, the core of every window frame.
Our window casings undergo a manufacturing process both methodical and effective, through treatments designed to fight humidity and the damages caused by the prolonged exposition to UV rays and bad weather. The lamellar casing system – composed of thin, wooden layers tied to each other – is robust, efficient and it resists well to frequent mechanical stresses such as opening and closing, besides the wind. It allows the wood and the entire frame to have a longer life, as it improves the endurance, eliminating the problem of thermal dispersion and the potential proliferation of moulds and bacteria.
The phase of painting with neutral colours paint is also very important, in order to obtain a further protection and a greater sparkle of the natural tones of wood.
Benefits of wooden frames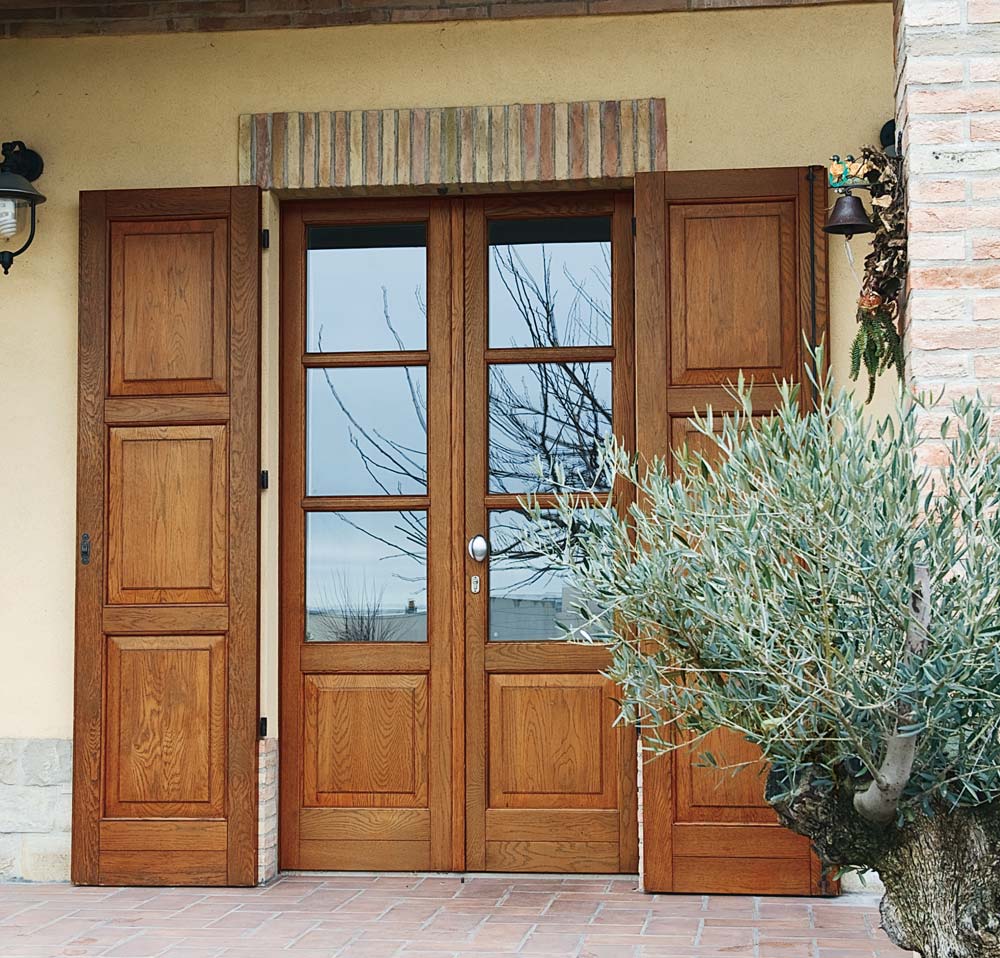 Choosing wooden frames represents a winning investment that focuses on the quality and beauty of a valuable material: wood.
Eco-friendly and durable at the same time, wood is a great ally both for environment and space. It easily adapts to many models, shapes, finishings, needs and tastes, plus the desired colour is easy to obtain. Natural nuances of wood are aesthetically complex and refined, with the considerable advantage of lasting over time. The chromatic choices vary, from the enhancement of the typical shades of the raw material to the creation of even brighter variations of colour, through modern painting methods, using products such as water-based paint, an original touch with a very low environmental impact.
Wood has always been used in the production of window frames, as it has many benefits: it is resistant, light and sustainable, furthermore nowadays, thanks to modern technologies, its performances are even more promising.
It is a living material that renovates constantly and represents an important connection with nature and its energy. It has a low impact of thermal conductivity, protecting the house from bad weather and cold temperatures.
Not only, but a room with wooden frames is also a room in which comfort and familiar warmth can be perceived. It is the most traditional among materials, but it can also amaze with its most contemporary shapes, linked to the design world and advanced backgrounds. Personality is one of wood's qualities and can make a room unique.
Wooden frames over time: is it a durable material?
The answer is yes, but is also important to know why. A window frame, beyond the material it is made of, is long-lasting exclusively if its making process is professional, with top quality raw materials and tools, embroidered by expert hands. If this operation is carried out correctly, than the frame is going to be enduring. 
Wood is an already extremely sturdy material, let's think for example about the housing system in the north of Europe, where wood has been a key component of everyday life over the centuries. Thanks to its thermal-acoustic insulation, it reacts positively to shocks and stresses. By paying attention every two years to the possible lubrication of the metalware, the frame results to be long-lasting.
Latest technologies intervene in the maintenance field too and if once it was a long and essential practise to avoid damages to the surface, now it is reduced to minimum, rapid, easy and efficient ordinary cleaning, to maintain intact the surface beauty with simple mild cleansers. To cope with the wear of time, wooden frames request an accurate, periodic paining only.